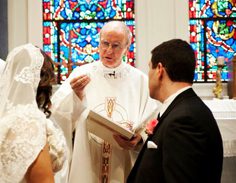 "The matrimonial covenant, by which a man and a woman establish between themselves a partnership of the whole of life, is by its nature ordered toward the good of the spouses and the procreation and education of offspring; this covenant between baptized persons has been raised by Christ the Lord to the dignity of a sacrament." –Catechism of the Catholic Church
In Marriage, one gives oneself totally to the other person. Witnessed by the Church, it serves as a public statement of the loving union of a husband and wife, family values instituted by God.
Arrangements must be made at least six months to a year prior to the anticipated wedding date. Please contact the Parish office :
706-548-6332
secretary@stjosephathens.com
Click here for more information:
Marriage and Family
Wedding Coordination
Within the context of planning for one's wedding is the need to plan and rehearse the ceremony. Please contact our wedding coordinator for help with rehearsal, coordinating personnel and to be a point of contact for any other marriage liturgy concerns.
Marian Arnold 
mariana@uga.edu